Why Your Website Should Be HTTPS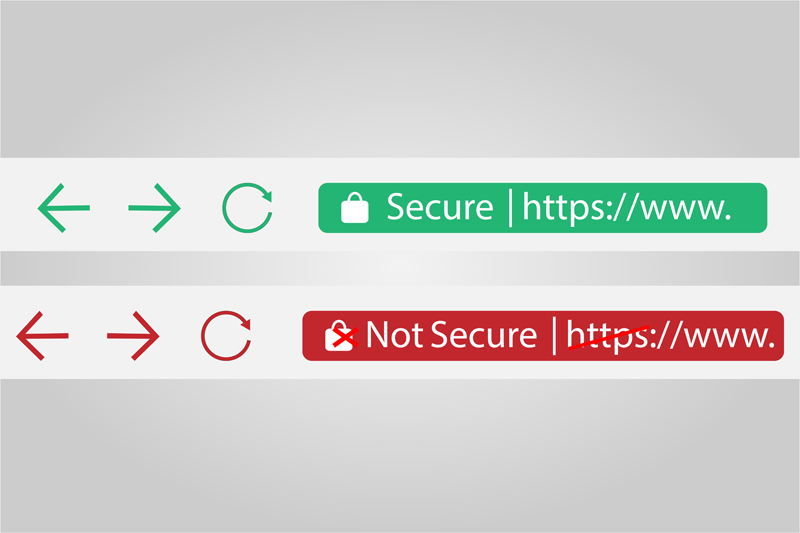 SSL Encryption is not only a must today to protect your website and its visitors, but also a prerequisite for any company who wants to be favorably ranked on Google.
In February 2018, Google announced that as of July 2018, with the release of the Google Chrome 68 browser, all websites that are not yet encrypted with an SSL certificate will be reported as insecure – right in the browser line.
The encryption not only provides a secure connection between the visitor and the web browser but also clearly improves the ranking of the website in the Google search engine and raises the necessary confidence in the visitor to the site.
How Will Not Having An HTTPS Website Affect Me?
Generally speaking, many browsers classify a page that offers HTTPS as secure, and that does not offer HTTPS but only HTTP as unsafe.
How a website is marked as secure
If you are a regular user of the Google Chrome browser, you may have already noticed that when visiting various sites online, one that is fully encrypted and has the HTTPS protocol is often marked as 'secure' in the browser line with a green padlock.
How a website is marked as insecure
On the other hand, sites that are not encrypted via HTTPS, or where HTTPS is not implemented correctly, will be missing the secure rating. Here, instead, an 'insecure' warning will be placed in the browser line and may be accompanied by a red open padlock
Although the changes are due in July since last year Google Chrome was already marking these 'secure' or 'not secure' messages on the pages of websites where sensitive data such as credit card information is required. The same applies to sites that contain forms, for example, a newsletter subscription or similar.
The fact that the website does not offer SSL data encryption does not necessarily imply that danger threatens website visitors. HTTPS says nothing about whether a site has been hacked or whether it has some malware. However, no sensitive data should be transmitted unencrypted to the website such as passwords, bank details, personal data or similar. HTTPS should be used in these cases.
What Is The Difference Between HTTP and HTTPS?
The Hypertext Transfer Protocol, HTTP for short, is used to load websites from the server into your web browser.
The Hypertext Transfer Protocol Secure, or HTTPS for short, has the same task, but does so in encrypted form, allowing it to create a secure connection between the website operator and your browser.
The HTTPS method is supported by all browsers and is, therefore, a security technology that does not have to be specially installed. Anyone on your network can monitor your browsing behavior on HTTP websites with a little effort. HTTPS sites, on the other hand, encrypt the connections.
The Benefits Of HTTPS
Having HTTPS comes with various benefits including:
Security
HTTPS significantly hinders the interception of data transmission such as the input of passwords. It provides a somewhat "eavesdropping security" between the visitor's personal (or public) computer and the web server hosting the website. Also, encryption makes it difficult for third parties to read your traffic, especially important when transmitting sensitive data.
If you have an online store where data transfer is the norm, HTTP is a must. Most payment processors will not offer you their service if your website does not have HTTPS.
Although HTTPS protects a website when it comes to transferring sensitive data, you will still need to protect your site from hackers. Your site can still be hacked or even taken over, and malicious software can accumulate on your computer. However, it is apparently a plus in security when transferring sensitive data.
Search Engine Results
Currently, there is no official statement from Google that the use of HTTPS has a positive effect on the ranking of a page. However, from an SEO point of view, it is possible that Google will rate it positively in the future, as HTTPS indicates that the corresponding page has a certain quality – an essential criterion for Google. To find out more, it you can get in touch with us for our SEO services.
How Do You Get A Website To Become HTTPS?
If you choose HTTPS, your website needs a Secure Sockets Layer (SSL) certificate. SSL certificates are at the heart of SSL encryption and obtaining the HTTPS status. This used to be purchased for a fee, but you can now have it for free from external certificate providers or via your web host and linked to the website.
The page will then be accessible via both HTTPS and HTTP. If configured correctly, when a user types in the HTTP protocol, they will always be redirected to HTTPS. All this is done automatically by the browsers for us. For your customers or website visitors, nothing changes. Only a small green icon in front of the web page address in the browser contains a visual reference to it.
Proper configuration is important so that your website does not crash or falls in the ranking. Also, a precise examination of all converted pages is essential.
How To Get An SSL Certificate
There are different variants of SSL certificates, which differ based on the type of verification. The so-called "trustworthiness," the amount of encryption and thus in the price. Most often and usually sufficient are the domain validation certificates. Others verify the organization or offer other extensions. Also, make sure that your certificate is trustworthy or that the public "trust" has to be established technically via higher-level certificates.
How To Know When HTTPS Has Been Implemented Correctly
As mentioned earlier, web browsers automatically redirect HTTP to HTTPS once your site has been encrypted. However, to ensure that the transition has been done correctly and it does not adversely affect your site's position in search results, there are a few details to test the updates including:
Correct forwarding of the HTTP page to the HTTPS page (301 redirects).
Updated external and internal links in your website texts.
Updated XML Sitemap.
Web statistics tools such as Google Analytics should be switched.
Updated Google AdWords and Bing Ads (they should all be redirecting).
Conclusion
To Conclude, Google's plan to enforce secure data transfer to websites is generally to be welcomed. In any case, to comply, it is highly recommended that you protect the login or the contact areas for which personal data is transmitted from being intercepted by third parties with HTTPS.
Switching an HTTPS website is not only essential for the protection of visitors to your business but also for your online business reputation.