9 Reasons Why Landing Pages are Vital for Marketing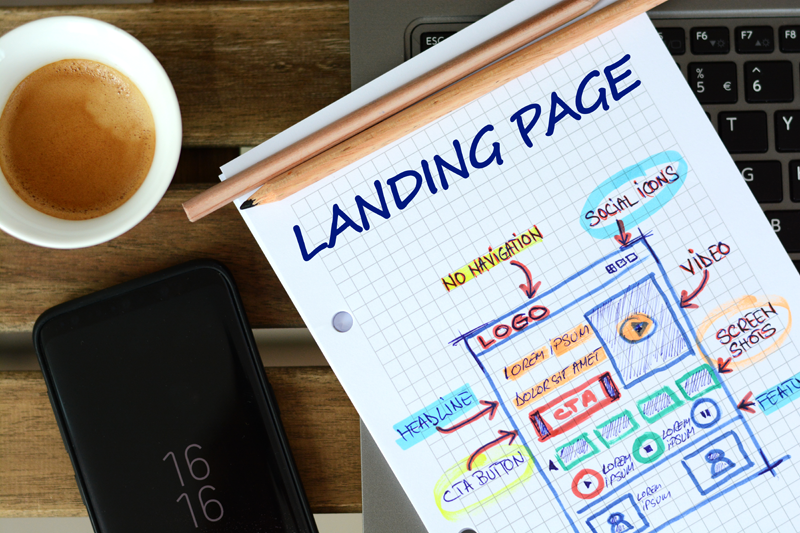 A landing page is a specially built page on a website that people are taken to when they click on a specific promoted online adverts with a call-to-action. It is different from other pages of a website because it is designed to guide web visitors to carry out a single action that is of benefit to the brand. Every brand with a website must have good landing pages that will help with attaining the desired results they require through all their online marketing efforts.
Yes, having a great home page or subpages on the website is good but such pages cater to a general set of web visitors. Landing pages, on the other hand, caters to a more specific target audience. The more specific a page is the more results brands will get every time people visit such landing pages.
If you're thinking of making the most of your inbound marketing efforts to generate more leads, then you can't avoid investing in creating the perfect landing pages that will help you achieve your marketing goals and seeking the assistance of an SEO marketing agency will be a good step.Alternatively, you could try and go it alone whilst keeping in mind the following reasons why landing pages are vital for marketing.
1. Makes it easy to generate valuable leads
Landing pages give brands the opportunity to gather leads that will be useful to them much later. Not every visitor that gets on the landing page is a potential buyer. The landing page helps brands sift through huge traffic and extract leads with the potential to turn into good conversions and sales.
2. Gives better understanding target audience
Landing pages can be properly monitored with any good analytics tool to track different metrics that will help brands understand how visitors interact with the page. It is very important that brands know how visitors interact with the landing page as this can provide them with more specific details about what they may already know about their target audience. If there is a need to make necessary adjustments to the website to suit the behavioral pattern the brand has observed, this can be easily done.
3. Encourages customers to take specific actions
A landing page is a great way for brands to control what visitors do on their website. It gives them the opportunity to direct the focus of web visitors to the specific action the brand wants them to take. This can be done within the time frame that the business thinks users will spend on the landing page. For websites with a lot of content and pages, it might be quite difficult for web visitors to wade through all that content and take a specific action that will be of benefit to the brand. This is exactly where landing pages come in.
4. Boosts the objectives of the brand
There is always a goal attached to every landing page. This is because it determines how the landing page will be designed, the content that will be on it and the call-to-action. If the goal of the brand is to build a more meaningful relationship with their target audience first, the content on the landing page will be different from that of a brand with the goal of making instant sales. Whatever the objective of a business is online, landing pages can help support it to reach its objectives.
5. Provides more accurate data when marketing
Data is very crucial to the success of any online marketing campaign nowadays. Rather than doing guesswork and gambling with various online marketing platforms, data extracted from the analytics report of the landing page can be used to create a better marketing plan for other online platforms. If the data is properly analyzed, brands can leverage that information to build even better landing pages also.
6. The perfect tool for building a relevant database
Depending on the call-to-action on the landing page, brands can use it to build their database. For example, this could be by requesting that visitors should fill a form in order to get something in return. It is always better to have some sort of value-adding bait (like free stuff, discount codes and so on). This helps to catch the visitor's attention and encourage them to willingly drop their email or contact number.
7. Can be used to establish trust
Landing pages give brands the opportunity to make a great first impression. When doing this, businesses should first provide brief and relevant information about the product or service. Secondly, they should immediately reveal how it would benefit the user and then show other users feedback (or reviews) about the product or service. Using landing pages that focus on a single buyer persona helps brands to shorten the process that a prospective customer would have to go through in the sales funnel. It also helps to convert them to customers by enabling a quick purchase. It also creates leads that brands can follow-up on later.
8. Can be used to connect with different buyer personas
Brands that have conducted proper market research will have a better understanding of who their target audience is and can create different buyer personas that fit the demographics of the target audience. Brands can build different landing pages with unique content that fits the buyer persona they want to target.
9. Drives quick traffic to the brand's website
Landing pages make it easy for brands to drive huge traffic to their website. A well-built landing page will have relevant links within its content. These links will be connected to the appropriate pages on the website so that the visitor can find other relevant information. When links are created correctly, curious website visitors can navigate through the website easily from the landing page. They can check out other aspects of the website which increases the time they spend on the website and also generates greater page views.