8 Social Media Marketing Trends to Expect in 2019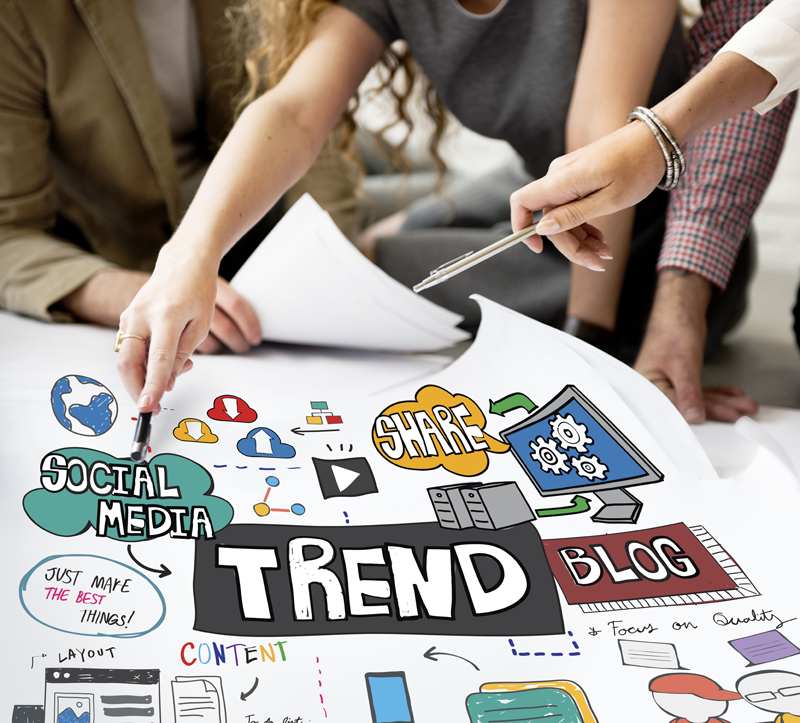 Social media is here to stay! As Facebook, Instagram, Youtube and other social media platforms keep upgrading their technology, the ever-changing online world only keeps getting better. However, with all these new innovations, businesses marketing through their social media channels also have to keep up with the changes to new find ways to take advantage of them to promote their products or services. These are some of the social media marketing trends to expect in 2019.
1. Creating more personalized content to build or regain trust
The constant changes to social media algorithms mean that businesses have to work more on creating personalized content to gain the trust of their target audience. With big social media platforms under fire for mishandling sensitive data, many users are now questioning the use of these platforms. (Facebook was under the microscope for allegedly misusing collected data from users and Twitter under fire allegedly for the overriding presence of bots in tweets).
This means that brands will have to work more on both protecting the data that they also collect through these platforms and on winning over users' trust in their brand and what they have to offer. Brands will also have to crawl deeper into the network of their target audience which includes their friends, families or colleagues and who they are likely to follow on social media as well. To do this, first understanding the lifestyle and interests of their customers is key; this can easily be achieved with a little guidance or with the help of a social media marketing agency.
2. Video marketing content will skyrocket engagement
More and more social media users are going to gravitate towards video content this year. Businesses would have to experiment with video content to determine the kind of content that is appealing to their target audience, as well as consistently share relevant content that will help improve their online presence. They can also creatively use their video content to add value to their target audience while promoting their services or products. With this, they would be able to reach more social media users, improve their overall engagement level as well as increase leads, conversions or sales.
3. Mobile advertising competition will be tougher
Research shows that there will be an increase in the use of mobile devices this year. Businesses will compete more on various advertising platforms to get their ads shown on mobile devices. And the more money a business spends on their marketing goals, the more mobile advertising spaces they can secure. Smaller brands will have to get creative with exploring other social media advertising options to boost sales, in addition to mobile advertising spaces that their budget can afford. They might consider boosting content that has performed very well organically to increase their chances of getting more value for their paid adverts.
4. The use of smarter chatbots will increase
Research also shows that many brands will start using very smart chatbots to improve their online customer service, their overall image, as well as increase chances of getting good leads, conversions or sales. Quite a lot of brands experimented with chatbots last year, and many more will focus on building very intelligent automated interactions between social media users and computer software responsible for the automated chats. Brands would want to focus more on ensuring that these conversations are as natural as possible so that users don't feel like they are conversing with a robot even when they actually are.
5. Increase in the use of visual content
The more than four hundred million users signed up on Instagram is a clear indication that stories on social media are here to stay. There will be an increase in the use of timed visual content known as stories. With Facebook, Instagram, WhatsApp, Snapchat intensifying efforts to improve the formats of visual content, more brands will be able to explore the opportunities of social media stories. This would encourage them to be more creative with their visual content since they have to post content every 24 hours; this demands more diligence when sharing good content in their stories if they want to remain relevant to their target audience.
6. More focus on engagement, reach and impressions
The number of followers on a social media page is always going to be the determining factor as to how popular a brand is. However, many social media platforms are now purging accounts or pages with fake likes or followers, in a bid to ensure that users work harder to push out quality content to get more exposure. The result will be that many businesses and brands will shift the focus away from follower counts to providing quality content that is appealing. With this, there would be a decline in the pursuit of followers; instead focus will be on reaching their target audience and getting good leads and conversions. This, in turn, could yield the growth of organic followers who have an interest in the brand's services or products.
7. Shopping on social media will increase
It is a common belief that users don't generally like to be diverted off a social media platform through external links. This trend means that businesses will have to improvise smarter ways for users to shop on their social media channel without having to leave. Although a large percentage of this format will be dependent on the developers of the platforms incorporating such features, businesses still need to work harder to figure out ways to bring their e-commerce business to social media. And they will also have to work on making it a seamless process.
8. Increase in the use of vertical video content
The team at Instagram was probably not the first to realize that users don't like having to always rotate their phones to watch video content. With this discovery came the launch of IGTV. As Instagram is the second largest video content source, they will most likely influence the popularity of this trend this year. It might be hard to convert old nonvertical video content to suit the size of IGTV, but brands would improve on subsequent video content to fit this size to start exploring its opportunities.